Credit Cards – Payment Methods
---
In this chapter, you can learn more about managing a reservation's credit card and payment information.
! Important information !
For security reasons, credit card details are deleted from the system 10 days after the reservation's departure date.
1. Prerequisites
Before you can manage a reservation's payment method, there must be a reservation in the system. To change the payment information, you must have entered it beforehand.
2. The process
2.1 How to open the window to enter and edit payment information
There are 2 ways to access the page for managing payment information:
In the reservation plan, right-click on a reservation and choose "Add credit card."
In the reservations section, click on the "Add credit card" icon.
2.2 Credit card details
Some channel managers enter the credit card details automatically.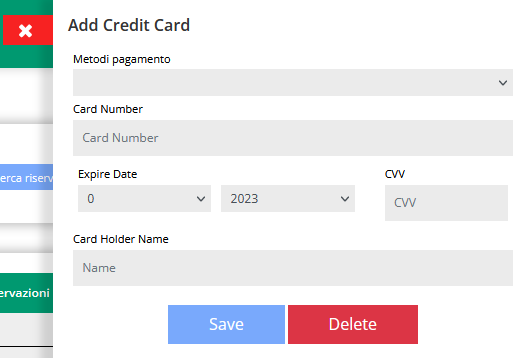 To add a credit card, you need to fill in a few fields:
Payment type: methods can be customised
Card number: enter the card number
Expiration date: enter the month and year
CVV: enter the CVV number
Cardholder name
After filling in all fields, click on "Save" to save the information. To cancel the process, click on "Delete."