Introduction to the reservation plan
---
In this section, you can learn more about the information displayed on the reservation plan.
1. Prerequisites
Before accessing the reservation plan, you must log in to CASY using your credentials. In the main menu, click on the "Rooms per Month" button on the left. The reservation plan will open in a separate window.
2. Elements of the reservation plan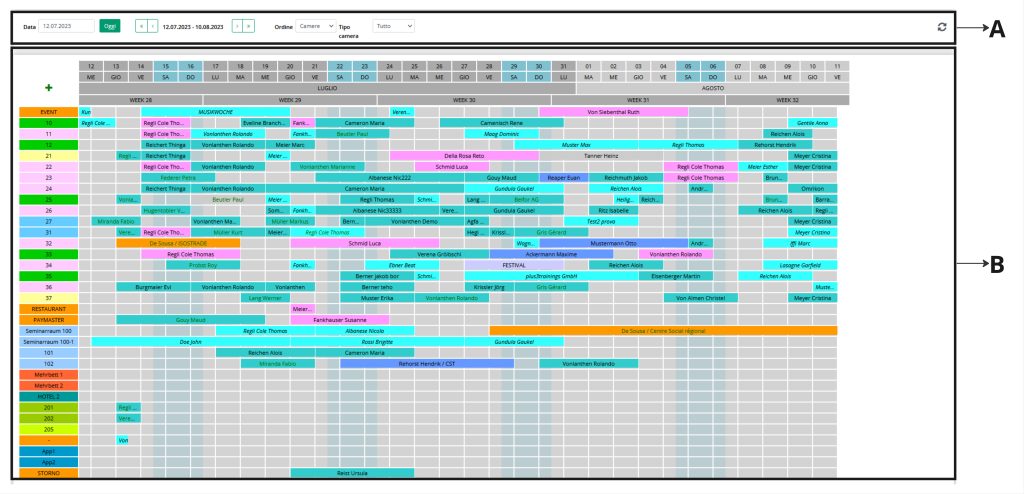 The reservation plan has two main parts:
Filter settings to display the data (A)
Data display (B)
2.1 Filter settings

To filter the data displayed in the reservation plan, several options are available:
Calendar (set by default on today's or yesterday's date) (A)
"Today" button to return to the default date (B)
Use of arrows:

Double arrow: increase or decrease the date by 1 month (C)
Single arrow: increase or decrease the date by 1 week (D)

You can choose between two types of order: (E)

Default order set with the installation (this is the default view when the page is loaded)
Order by room types

You can filter by room type to display only one of them (F)
You can manually reload the reservation plan. (G) It also automatically updates every time you log in or apply changes on the plan.
2.2 Data in the employment plan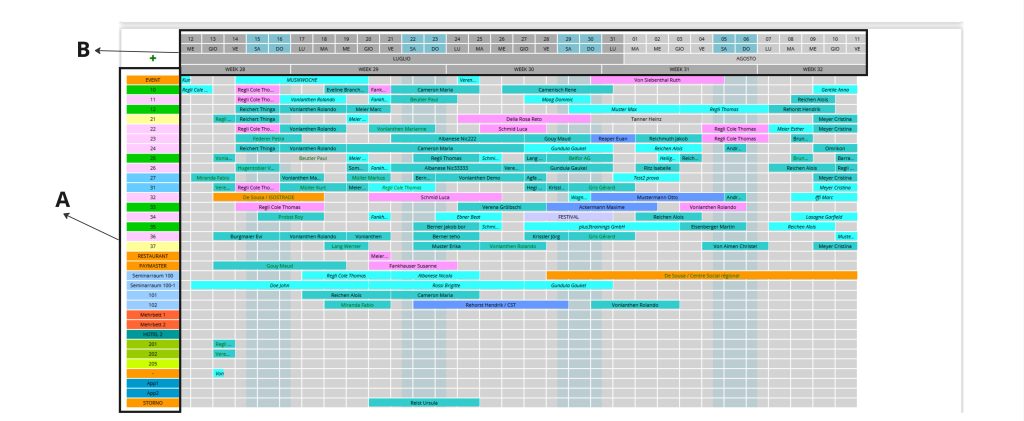 On the vertical axis, you see: (A)
All rooms
Room types if there are multiple rooms for each type (indicated by colours)
Cancellations
If configured – Multipurpose rooms
If configured – Parking lots
If configured – Cash
If configured – Restaurant
If configured – Debtors
On the horizontal axis, the next 31 days starting from the selected date are displayed. (B)
The 4 lines show the date and the day of the week, the month and the week number. In addition, Saturdays and Sundays are marked with a blue background.
Within the plan, you can see if a room has been booked.
Each reservation is marked with three different colours:
The background colour indicates the reservation status (customisable)
The colour of the text indicates the reservation category (customisable)
The border of the box indicates the channel from which the reservation was made (customisable)
Should a room be booked more than once for the same date (overbooking), the box will be displayed in red and indicate the number of reservations for the given date.

2.3 Possible actions in the reservation plan
For more information on possible actions in the reservation plan, read more.